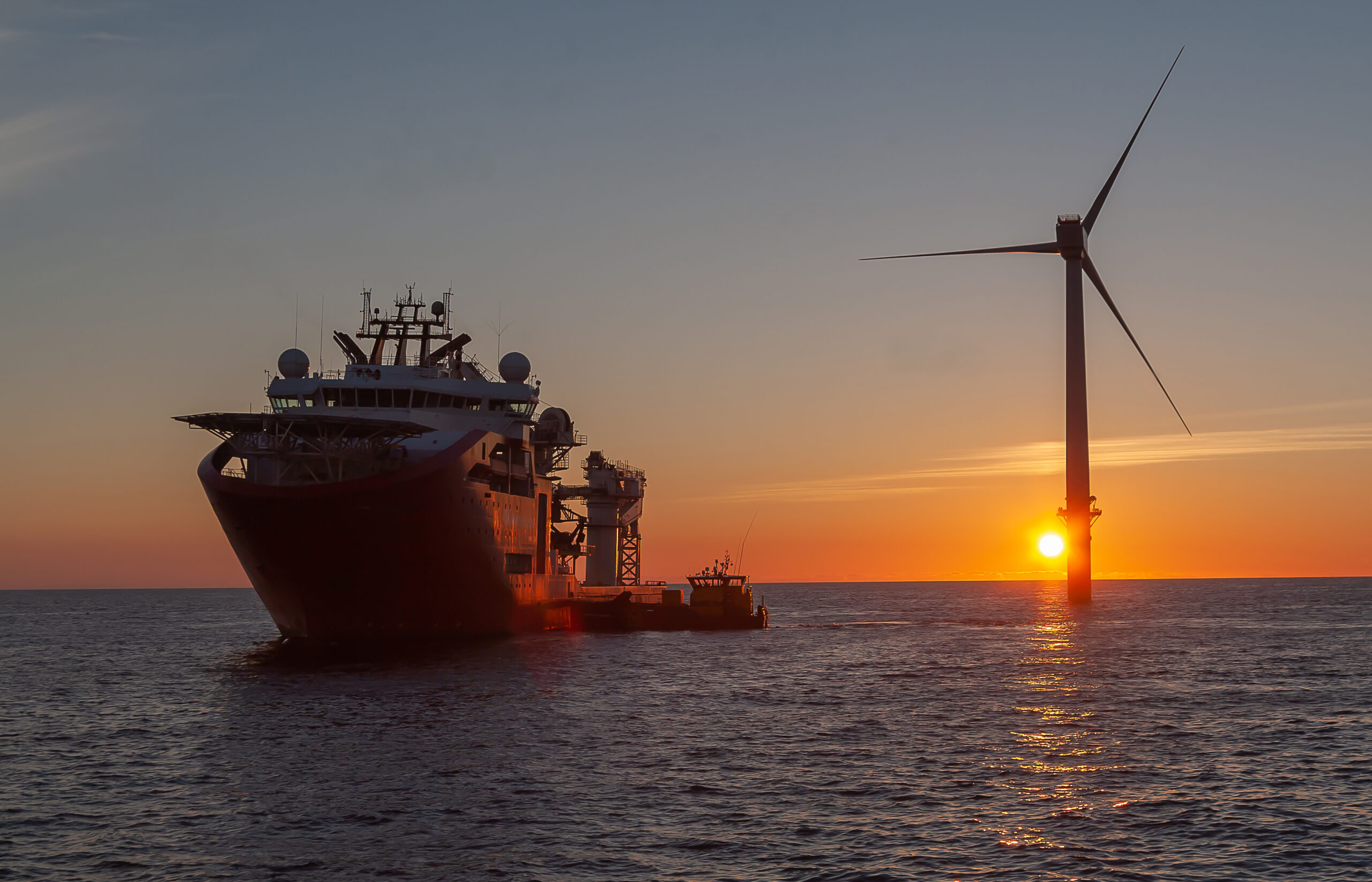 London, Thursday 13 April 2023. Service operation vessels (SOVs) have assumed increasingly important roles in the offshore wind energy industry over the last few years. This is fuelled by a significant growth in the offshore wind construction pipeline, as well as the increased size of wind turbines, distance offshore for new projects, and the equipment required to transport, install, and maintain these.
However, the growth in this industry, and within the oil and gas markets, means demand for these specialised vessels has skyrocketed, resulting in tight availability in the spot market. This is posing a challenge for pipeline offshore wind projects, construction campaigns, and the maintenance of existing farms.
Trends in the SOV market
With the increasing focus on cutting greenhouse gas emissions, there has been growing interest in alternative fuel-powered vessel propulsion. Several alternative-fuel SOVs, OSVs, and CSOVs have been developed, including vessels powered by methanol, battery, hydrogen, and hybrid propulsion.
These include the 82.9 meter-long Edda Brint, which Vestas are now utilising on Scotland's Seagreen Offshore wind farm. The SOV, built by Astilleros Balenciaga, is hydrogen-ready for future green fuel operations.
Ørsted and Esvagt have also invested in an SOV powered by batteries and renewable e-methanol. When commissioned in 2024, the vessel will service the Hornsea 2 offshore wind farm off the UK's coast.
Colebrook Offshore, a chartering, and sale and purchase, vessel brokerage, specialising in the renewable energy sector, forecasts that construction projects will make up the majority of demand in the coming two to four years, after which O&M operations will become the greatest demand within the market.
Another trend is yard and build locations, which is shifting back to Europe from China. The main drivers are the diminishing gap in quality and cost between European and Chinese yards, as well as a generally busy period for the vessel building industry due to a flourishing vessel market.
Colebrook Offshore, which has clients worldwide, expects 13 CSOVs to be delivered in 2024, coinciding with when multiple large wind farm construction projects will commence.
Why is demand for SOVs increasing?
Growth of the offshore wind industry
The offshore wind industry is experiencing rapid growth. According to McKinsey, the industry will grow from 40 GW in 2020 to 630 GW by 2050 after being proven a reliable renewable energy source. Many projects in the pipeline require the services of SOVs.
Wind farms in deeper waters
Wind farms are increasingly planned further from the shore, where there is a reduced reliance on CTVs and an increasing reliance on SOV solutions. In this scenario, many wind farm owners/operators are opting for SOV solutions rather than losing valuable time on turbine, through extensive transit times back and forth from port. Project announcements indicate the average distance from shore will increase to 70 km by 2025, from 45 km in 2019.
Larger and more complex wind turbines
More offshore wind developments are using larger and more complex turbines. Due to the trend toward offshore wind farms with larger foundations and higher transition pieces, there is a growing demand for SOVs that can reach up to 26m. In addition, the turbines require more frequent and specialised maintenance, which requires specific SOVs, gangways and personnel to complete.
How many more SOVs are needed?
Globally, offshore wind power projects are forecasted to see a 160% jump by 2030. The installation and maintenance are projected to attract an investment of $26 billion into vessels serving the industry, including the construction of 90 new SOVs and CSOVs, at the cost of $5 billion.
2022 was a record year for orders for new vessels, with 30 SOVs and CSOVs ordered. In comparison, there was a total of 32 SOVs and CSOVs in operation globally, with 39 being at different stages of completion in shipyards worldwide.
With more than 7,000 turbines expected to come online before the end of 2030, northwest Europe will continue to be an important driver of demand.
Why not simply build more SOVs?
The logical solution to the growing demand is to build more vessels. However, while the growing need for SOVs represents an investment opportunity, there are challenges. Some caution should also be taken to keep the market sustainable, as we all are aware of the very cyclical nature of the offshore vessel markets.
At present, the supply chain is still recovering from the impact of the COVID-19 pandemic. This has caused delays and extended lead times for parts, equipment, and materials for newbuild projects.
As an alternative to new build SOVs some vessel owners already are converting existing Platform Supply Vessels (PSVs) to CSOV solutions. Repurposing is an accelerated chance to meet market demand in a short time frame, given conversions can be completed in around six months' time. However, there are limitations to a non-purpose-built asset vs a high spec C/SOV design.
How to source SOVs despite a tight market?
Plan ahead
It is important to plan ahead by securing SOVs well in advance, especially for projects during typical summer campaign periods from March – October. We have increasingly seen Charterers coming to market earlier each year to ensure pick of market assets. But such forward planning can lead to inflated vessel day rates as Owners look to insulate risk from future market shifting.
Work with a reputable shipbroker
A reputable shipbroker can help you identify available SOVs that meet specific needs.
As the demand for SOVs grows worldwide, Colebrook Offshore is a global shipbroker that can help offshore wind energy companies navigate the waters of SOV sourcing. With a team of experts with extensive knowledge of the offshore industry, we work closely with our clients to understand their needs and provide them with the best possible solutions, including vessels for construction, maintenance, or supply operations.
Talk to one of our team members today about your SOV needs: [email protected]
Follow the latest in the SOV market
Making decisions about SOVs is easier when you have a finger on the pulse of the market. Keep up to date with the latest trends in the industry.
The Colebrook Offshore Market Reports keep our clients ahead of the curve to help you make informed decisions about SOV selection, pricing, and contract negotiations.
They cover a wide range of topics, including vessel availability, supply and demand trend, and regulatory changes. Subscribe to our Market Reports for insights you won't find anywhere else