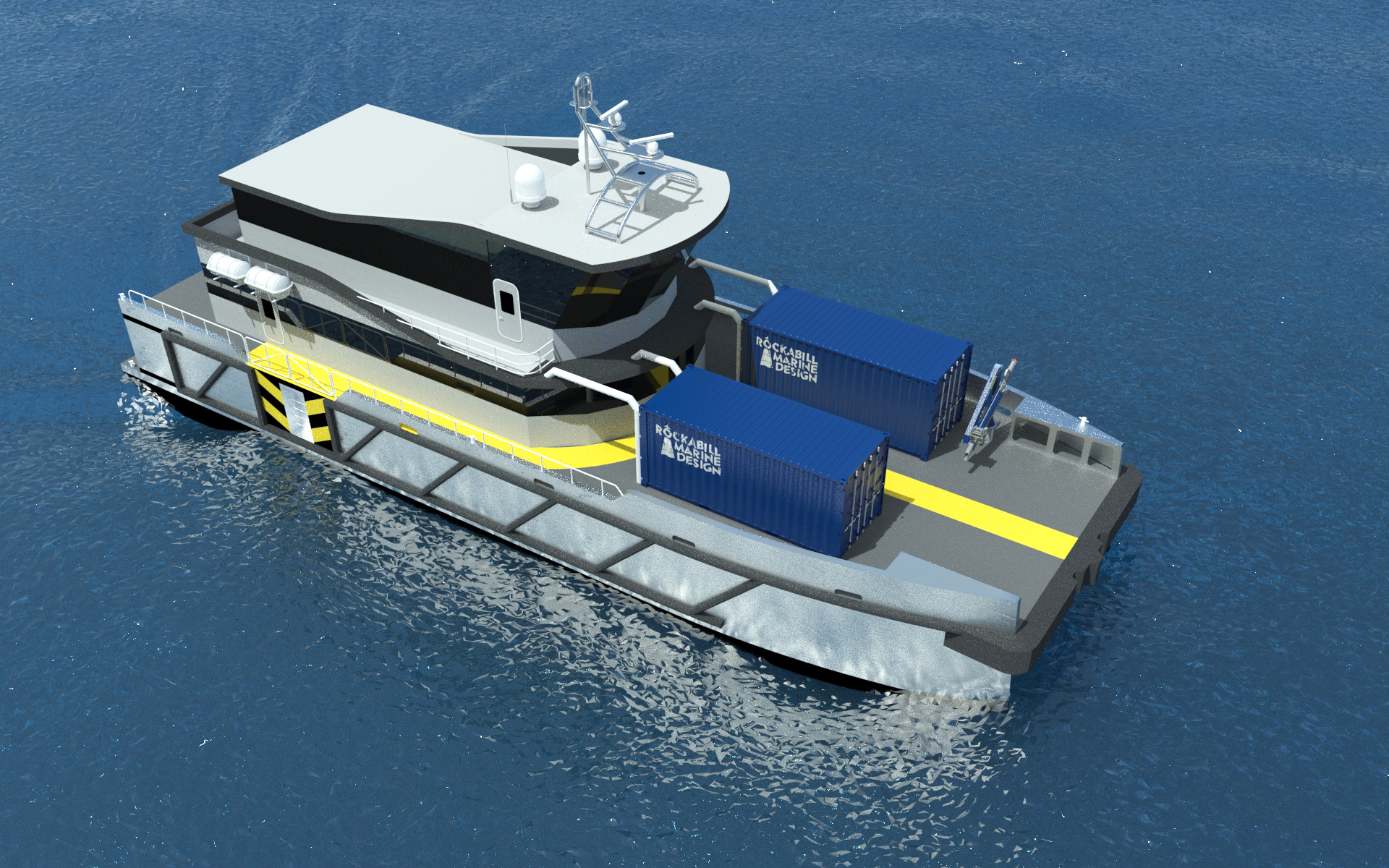 Southampton, Tuesday 21 June 2022. Rockabill Marine Design (RMD), a newly established vessel design house, and part of the CSO Marine Group, today unveiled the company's first green crew transfer vessel (CTV) designs. The Rockabill 27m and 32m vessel concepts feature green propulsion technology and harness the power of alternative fuels and modular battery systems.
Designed to meet the growing and evolving needs of the offshore renewables sector, and the increased focus on emission reductions worldwide, the Rockabill 27m and 32m vessels combine fuel efficiencies with high-speed capabilities and significant capacity and comfort for both crew and passengers.
Following consultation with stakeholders from across the offshore wind industry, the demand for a CTV utilising innovative technologies to reduce CO2 emissions was clear. The RMD vessels achieve this through a series hybrid system running highspeed quad pod drives, with diesel generators located within the hull compartment. In addition, each generator has its own stainless steel fuel tank which can be converted to green methanol.
The vessels will boast two passenger refreshment stations in addition to a mess room, spacious washroom facilities, lockable storage space adequate for each person onboard, and seating in banks of two for 30 passengers. The design pays particular attention to technician and crew health, safety and comfort, delivering the workforce in the best possible work-ready condition, resulting in increased operation days offshore for O&M and construction activities.
"We are delighted to release to the market the initial concepts for what will be two industry leading green CTVs.

The concepts are the result of many years' of experience working within the offshore energy industry, truly understanding our clients' 'must-haves', whilst avoiding the pitfalls many other designers have encountered when trialling leading-edge emissions reduction technology."

Ruairi Grimes Managing Director Rockabill Marine Design
Both aluminium catamarans feature a fixed deckhouse with accommodation for six crew, providing a low cost, low carbon alternative to SOVs. Both vessels feature four cabins for six people, comprised of two single occupancy officers' cabins and two twin occupancy crew cabins. Each cabin has ample storage space, a desk, bed and bedside table, with adjoining washroom equipped with private shower and toilet.
Each vessel features generous foredecks with a large area accommodating four x 10ft or two x 20ft containers, deck crane, anchor winch, fuel, and high-pressure water supplier reels.
"As part of the CSO Marine Group, Rockabill Marine Design benefits from more than two decades of experience in the offshore energy industry, enabling data-driven designs incorporating 'live' charterer requirements which truly have our clients' needs in mind.

We are pleased to share that the vessels are currently being considered for construction and O&M projects within Europe and the US, and we have no doubt they will prove to be highly effective and cost-efficient assets at any wind farm worldwide."

Tony Colebrook Managing Director CSO Marine Group
Established in early 2022 by Naval Architect Ruairi Grimes, Rockabill Marine Design specialises in data-driven vessel design for the offshore renewables market.